DealEdge

Powerful analytics that give investors the edge to invest confidently in a changing world.
DealEdge is a powerful, intuitive digital advisory product that gives private equity investors unprecedented insight into which deals have the most potential and where hidden opportunities exist to create value. DealEdge gives investment professionals an unbeatable combination: Bain & Company's industry-leading due diligence consulting expertise applied to CEPRES' unrivaled private equity transaction data. Its simple dashboard interface puts detailed investment analysis based on tens of thousands of buyout, growth and infrastructure transactions at your fingertips.
DealEdge is the result of a breakthrough partnership between Bain & Company, the leading global advisor to private equity firms, and CEPRES, the premier digital analytics platform focused on global private capital markets.
Stay ahead of the competition
Data and analytics are rapidly transforming the private equity industry. DealEdge provides unparalleled access to and analysis of deal data, guided by Bain's private equity expertise. This enables you to make better-informed decisions from early-stage diligence to the final investment committee.
Zero in on the most promising investments
Any prospective deal will benefit immeasurably from what only DealEdge can provide: the power to evaluate the risk-return profile and operating metrics of similar deals using a custom taxonomy designed by Bain to meet the specific needs of private equity investors. DealEdge provides the world's deepest industry taxonomy so you can see what's worked and what hasn't in a highly relevant benchmark set. That means you can focus investment team resources on the deals with the highest potential.
Pressure test investment theses
Understand how earnings growth, revenue growth and multiple expansion contribute to the success of similar deals. See the range of purchase price and exit multiples. Evaluate the cyclicality of any sector. DealEdge helps you ask the right questions and pressure-test deal model assumptions throughout the diligence process.
Replace hunches with highly relevant market benchmarks
We developed DealEdge specifically for private equity investors. It's far more than a massive database of deal metrics—it uses a proprietary taxonomy to build highly relevant benchmarks tailored to your specific challenge. Instead of benchmarking based on anecdotal evidence from the few transactions you know, drill down with DealEdge and gain real intelligence.
Simple Input, Powerful Output
Simple Input, Powerful Output
Make three simple selections of industry, geography and deal size to yield powerful and highly relevant benchmarks for any deal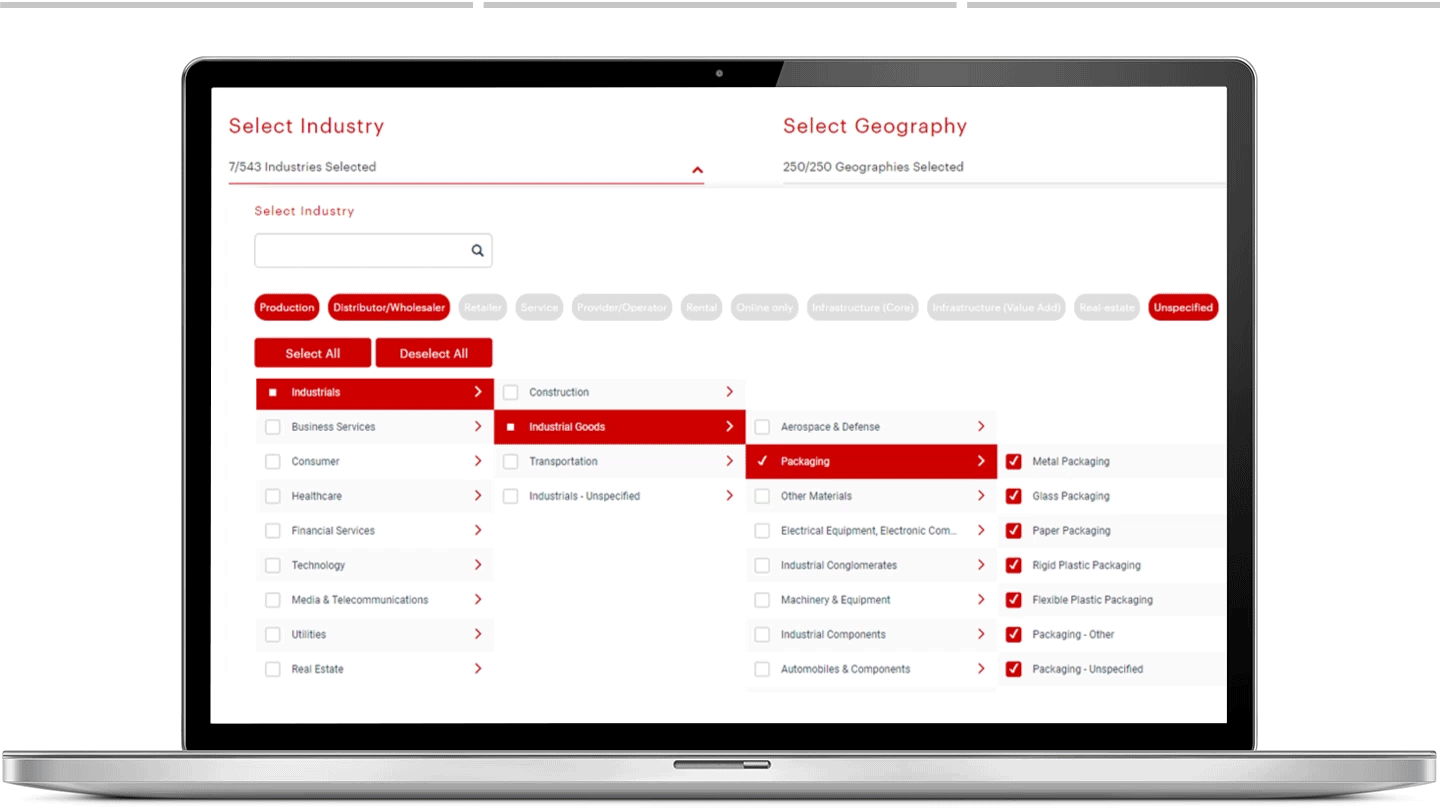 Our Partnership
Our Partnership

About CEPRES
CEPRES is the leading digital solutions provider for private markets, connecting 1,000s of professionals in the largest private investment network in the world. CEPRES combines a secure, confidential digital data exchange with sophisticated SaaS solutions and expert analysis to help decision makers gain deep insights, underwrite investment decisions and achieve better outcomes on their portfolio of funds, deals and operating companies assets, within a confidential yet fully flexible framework.
About Bain
Bain is the leading consulting partner to the private equity industry and its key stakeholders, with a global practice more than three times larger than any competitor. Bain's network of more than 1,000 experienced professionals serves private equity and institutional investor clients across the investment life cycle. Bain supports clients in all regions of the world and across all major sectors on a broad range of objectives, from deal generation and due diligence to portfolio value creation and exit planning.