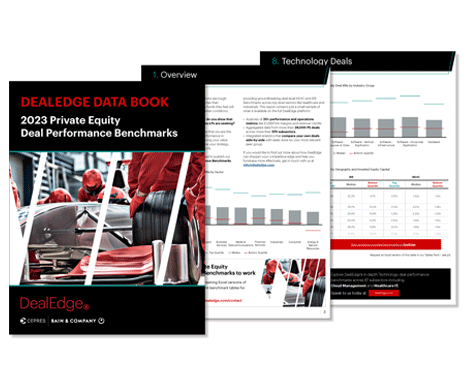 Download the DealEdge Data Book: 2023 Private Equity Deal Performance Benchmarks
Put our deal-level benchmarks to work
Put our deal-level benchmarks to work
The 2023 DealEdge Data Book showcases the groundbreaking deal-level IRR and MOIC benchmarks available on the platform. It's just a small sample of how DealEdge can help you invest smarter and fundraise faster.
Our award-winning performance and operational analytics can help you to:
Refine your sector strategy with quantitative assessments of different industry subsectors
Benchmark your portfolio side-by-side against similar deals done by funds like yours
Tell the story of your performance through instant insights into exactly where you outperform
Sharpen your competitive edge and fundraise more effectively.​
DealEdge at a glance
DealEdge at a glance
private market deals with performance and value creation data
sub-industries mapped to custom-built taxonomy
performance and operational analytics
DealEdge Data Book: 2023 Private Equity Deal Performance Benchmarks​
Get the latest deal-level performance insights.​
Download
Request a demo