The first part of our case study on private equity deal performance during the Global Financial Crisis (GFC) explored how the market as a whole responded to the recession of 2008-9. We looked at three key stages: the run-up to the recession in 2007, the early part of the recession in 2008, and the late part of the recession in 2009.
In the second instalment, we look at how different private equity sectors performed at each of these stages, and which were best able to consistently offer value.
Sign up to DealEdge insights
Register your details to receive DealEdge insights, analysis and updates directly to your inbox
Median IRRs for deals entered in 2007 were weak, with just three sectors returning a median of more than 10%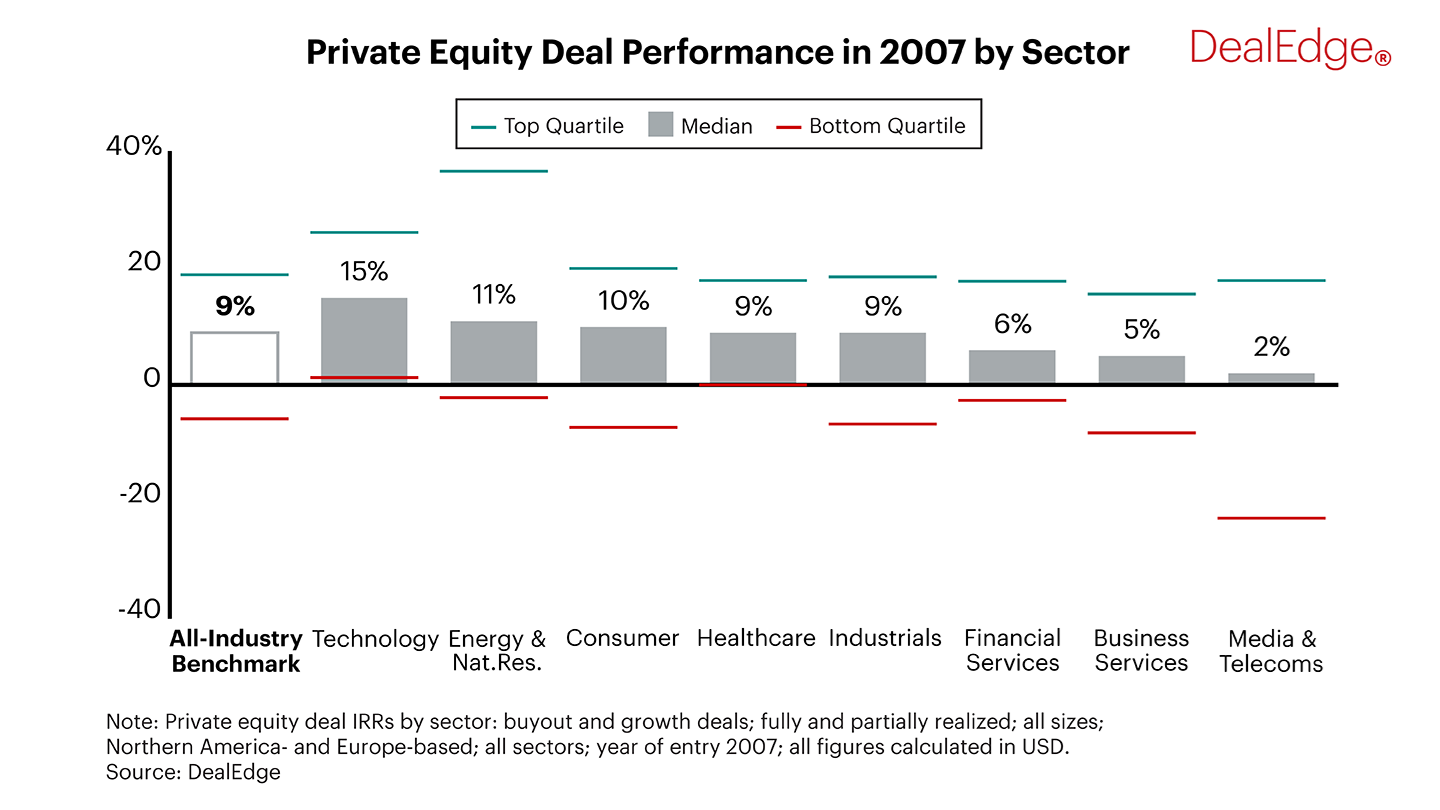 Returns in 2007 were relatively weak across sectors. The all-industry median IRR was 9%, with only Technology, Energy & Natural Resources, and Consumer exceeding that level.
Most sectors had bottom quartiles with negative IRRs, indicating the volume of deals acquired in this year that returned a loss.
For both high and low performing sectors, returns varied widely between specific subsectors.

In Consumer, Food, Beverage & Tobacco deals had a median IRR of 33%, while Consumer Durables & Apparel returned negative 2%.
In Media & Telecoms, Network Service Providers had a median IRR of 19%, while Telecoms Network Equipment deals returned a median of negative 36%.
Subscribe to DealEdge
DealEdge subscribers can get further breakdowns between different regions, and analysis on how pricing multiples impacted performance.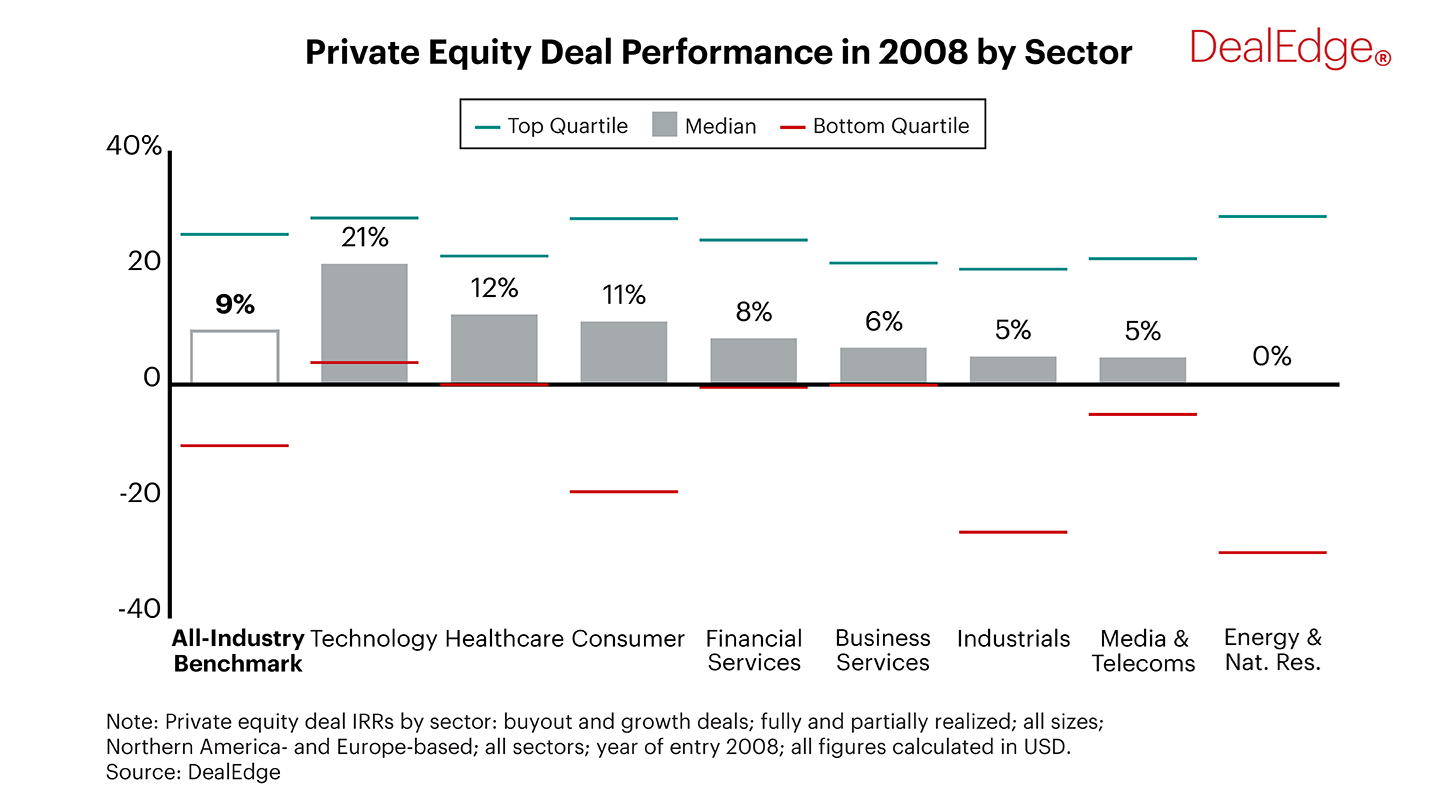 Performance generally stabilized, even as it remained depressed overall. Fewer sectors saw bottom quartile boundaries in negative territory, and several sectors, including Technology, Healthcare, and Media & Telecoms, saw median IRR increases from 2007 to 2008.
As the GFC continued, investors adapted to the new environment quickly:


Median Technology returns jumped by six percentage points, making the sector a standout top performer.
Healthcare deals saw their median IRR increase from 9% to 12%, while the bottom quartile boundary returned to positive territory.

Other sectors found that performance pressures increased:


Energy & Natural Resources (ENR) deals made in 2008 had a median IRR of 0%, down from 11% for 2007 deals. Both industry groups* within ENR - Energy and Natural Resources - saw declines.
Median Industrials performance fell from 9% to 5%, as deals in the Transportation industry group* saw a significant decline in performance.
* DealEdge's private equity taxonomy has four levels: sectors (10 categories), industry groups (43), industries (145), and sub-industries (573). Industry groups within Industrials for example include Construction, Industrial Goods, and Transportation. Transportation can be further broken down into 8 industries, and 16 sub-industries.
Want to see how your own deals stack up?
With Portfolio Diagnostics, you can compare your own deals side-by-side against sector-specific benchmarks.
By 2009, the deals landscape had recovered, and returns among deals made that year improved markedly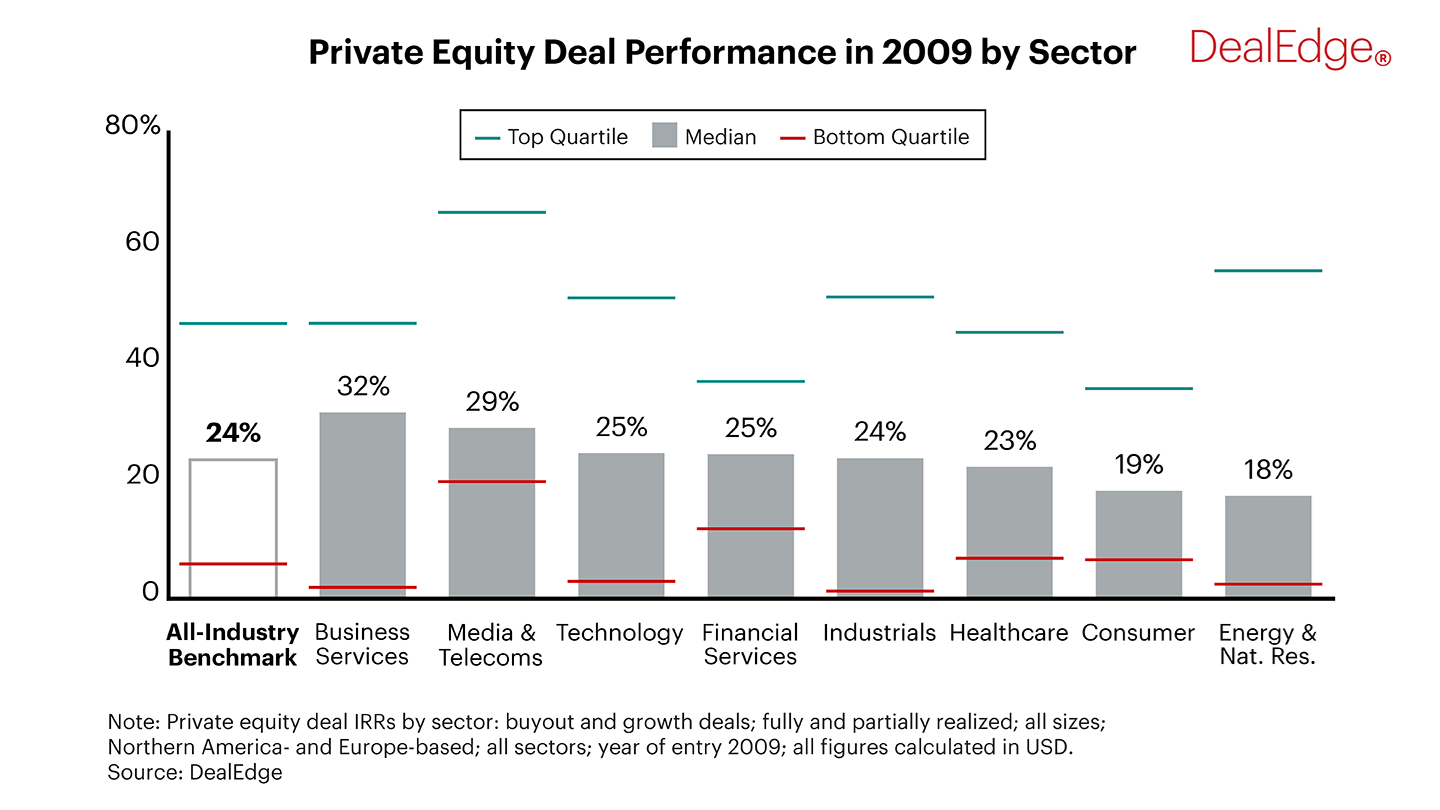 Median IRRs among deals made in 2009 were significantly higher than their 2008 counterparts across all sectors shown.
Business Services and Media & Telecoms deals in particular saw median returns surge by more than 20 percentage points, overtaking Technology to become the highest performing sectors.
Bottom quartile returns improved, with bottom quartile boundaries for all sectors in our study moving back into positive territory.
Top quartile boundaries similarly increased, reaching 50% or higher in half of all sectors explored in our study.
The complete case study is exclusively for DealEdge Insights subscribers. To sign up, complete this form and download our Case Study: Private Equity Performance During a Recession.
Understand performance and value creation in your target sectors more deeply than ever before. DealEdge gives you faster, smarter answers to guide your strategic decision-making. Get your demo today:
Sharpen your investment edge
Speak to us today and see how you can power up your private equity program
Request Demo